Terrazzo Floor Shares History of Hospitality
---
For Steve Brown, the owner of The Glass Knife in Winter Park, Fla., the stylish design of his new café's interior is all about telling his story. Inspired by memories of his mother, Jacque, he looked for a meaningful way to recapture in his upscale patisserie the creative magic she brought to a gathering through her baking. He set out to share her story with each guest who enters his doors in the spirit of bringing friends and family together as she had done.
In The Glass Knife, which opened in 2017, a custom terrazzo floor beautifully narrates Mr. Brown's tribute to his mother and to an earlier era. It also helps communicate an offbeat narrative that reinforces the café's brand.
"Terrazzo was the one material that allowed us truly to share the history and story behind The Glass Knife," Mr. Brown said. "The floor is very easy to keep clean, and our guests are always commenting on it, which provides us the opportunity to share our story."
Mr. Brown's mother was an avid collector of Depression Glass, and she left her son her extensive collection of glass knives. Produced in the 1930s, these knives were made specifically for cutting fruits and cakes, as the steel knives of the time would tarnish when cutting citrus and leave a metallic taste in food.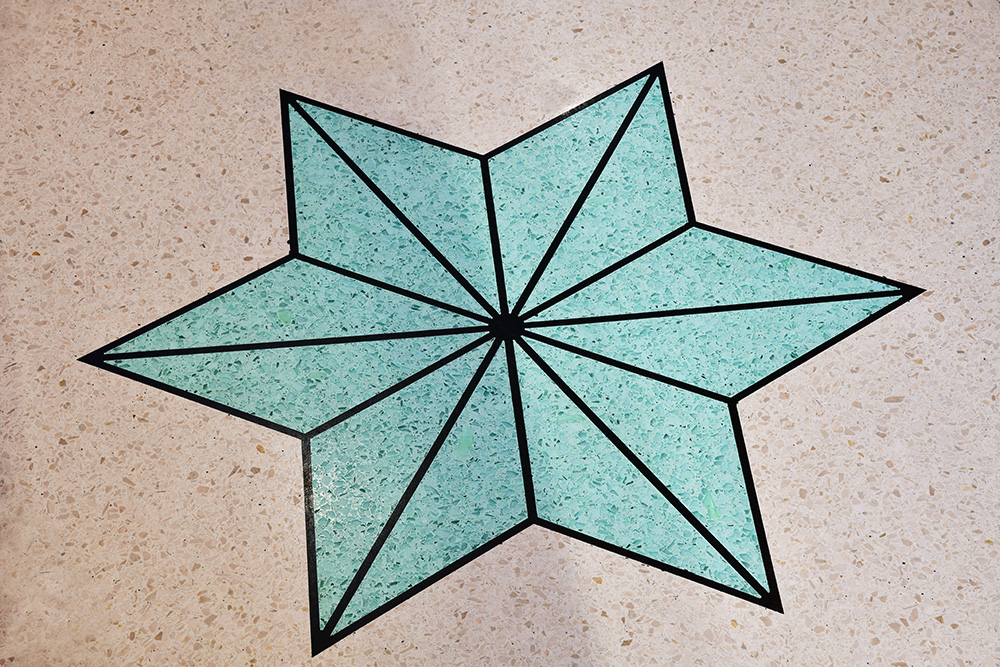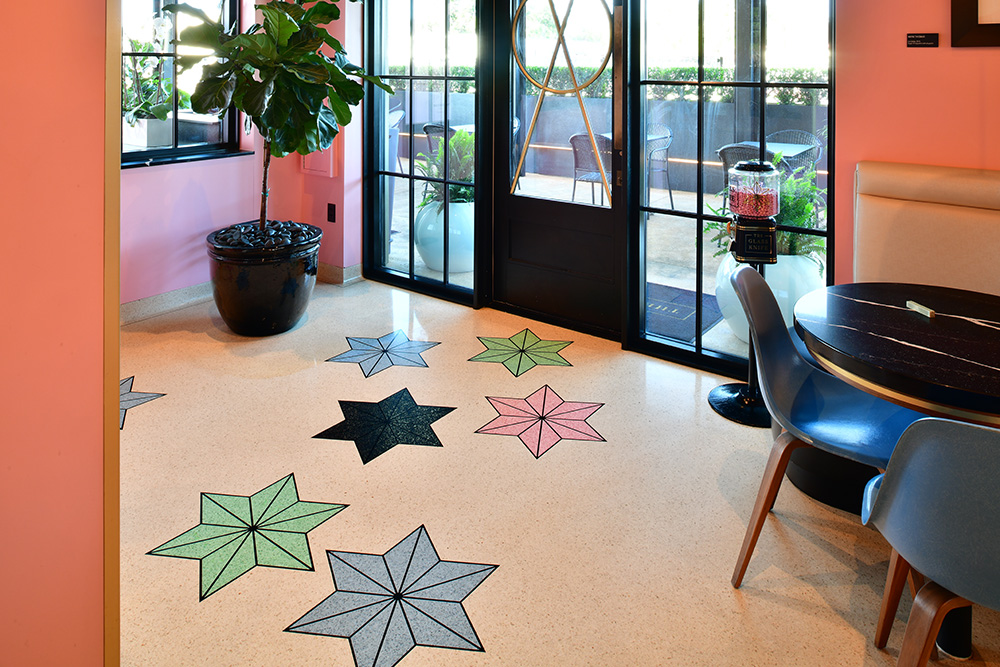 For Mr. Brown, the glass knife symbolized Jacque and the warmth she brought to the kitchen. This central narrative and vibrant brand concept inform every element of the shop's winsome retro interior, a collaboration with Maverick Architecture & Design of Orlando and Surroundings Interiors of Tampa.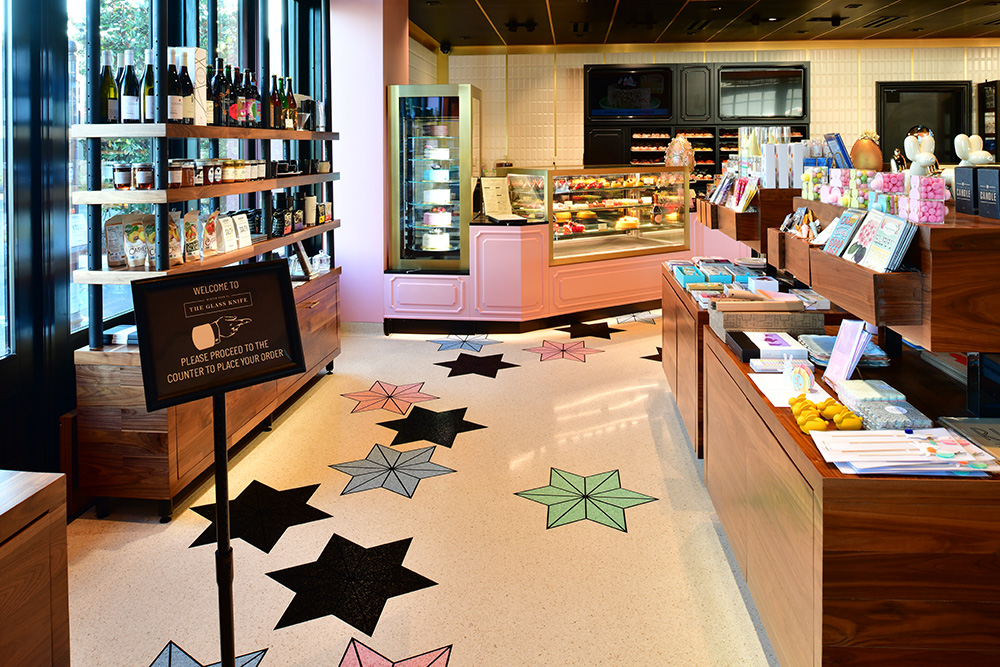 Embedded in each terrazzo star among the aggregates are chips of crushed glass recycled from some of Jacque's knives. Black plastic divider strips provide high contrast with the bright epoxy resin colors. The glitz of brass shavings incorporated in the black stars complements the eye-catching design.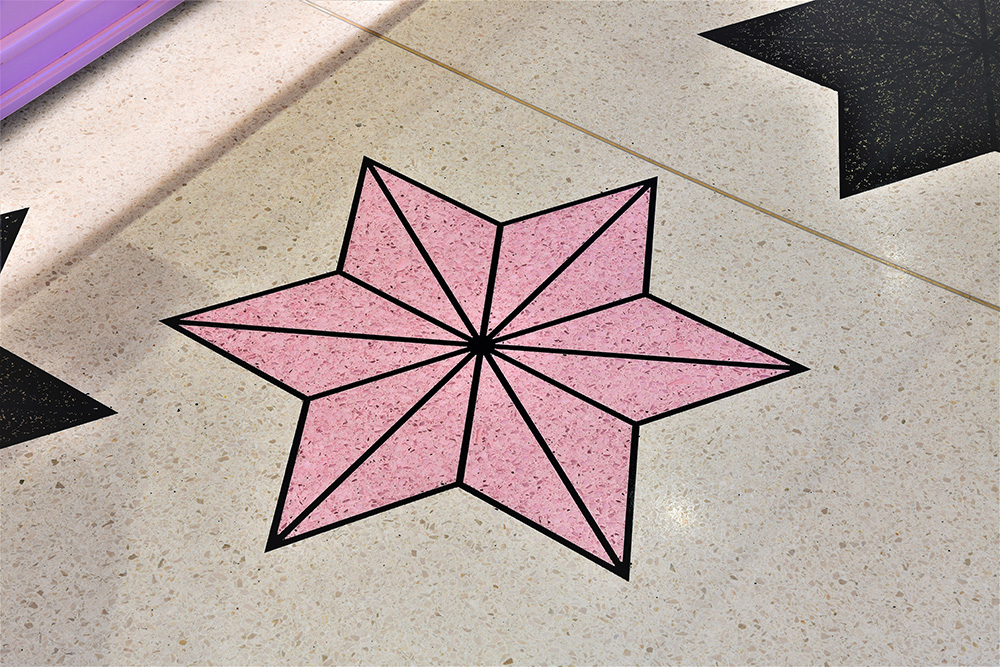 Alpine Terrazzo of Maitland, Fla., received an Honor Award from the National Terrazzo & Mosaic Association in 2020 for the installation. Winning projects are selected based on the aesthetics of the installation in its design context, the scope of the work, and the craftsmanship demonstrated.