---
A Piece of the Real World
Award-winning Terrazzo Artist Linda Beaumont Sets Her Designs in Stone
---
"Terrazzo is a fantastic medium for the built environment and such a great match for artists working in civic spaces," said artist Linda Beaumont of Seattle, who began working with terrazzo on public art projects about 18 years ago.
"It's different from conceptual, intellectual ideas of art, or having your ego all over, or art in a world all its own," she noted. "I love it because it isn't a window to another world; it's a piece of the real world. Terrazzo is married to the culture it's in. It is, in a real sense, set in stone."
Though terrazzo's reputation was built as a durable, low-maintenance, earth-friendly flooring, its repertory as a medium for public art has extended to three-dimensional sculpture in Ms. Beaumont's hands. Beached at the train tracks near the Pacific at Mukilteo Sounder Station in Renton, WA, are two 27-foot-long, solid concrete-core terrazzo earth canoes, representing those of the area's native inhabitants.

The canoes are adorned with seashells, clear and colored glass, semi-precious stones, and mother-of-pearl chips. The project received a 2011 Honor Award from the National Terrazzo & Mosaic Association (NTMA).
Public art's function of engaging the community in its own stories is reflected in the process of creation for artists collaborating with terrazzo and its artisans.
"I turn the public space into my studio, and something happens when we all work together, bringing together the technical skills and the physical process," said Ms. Beaumont.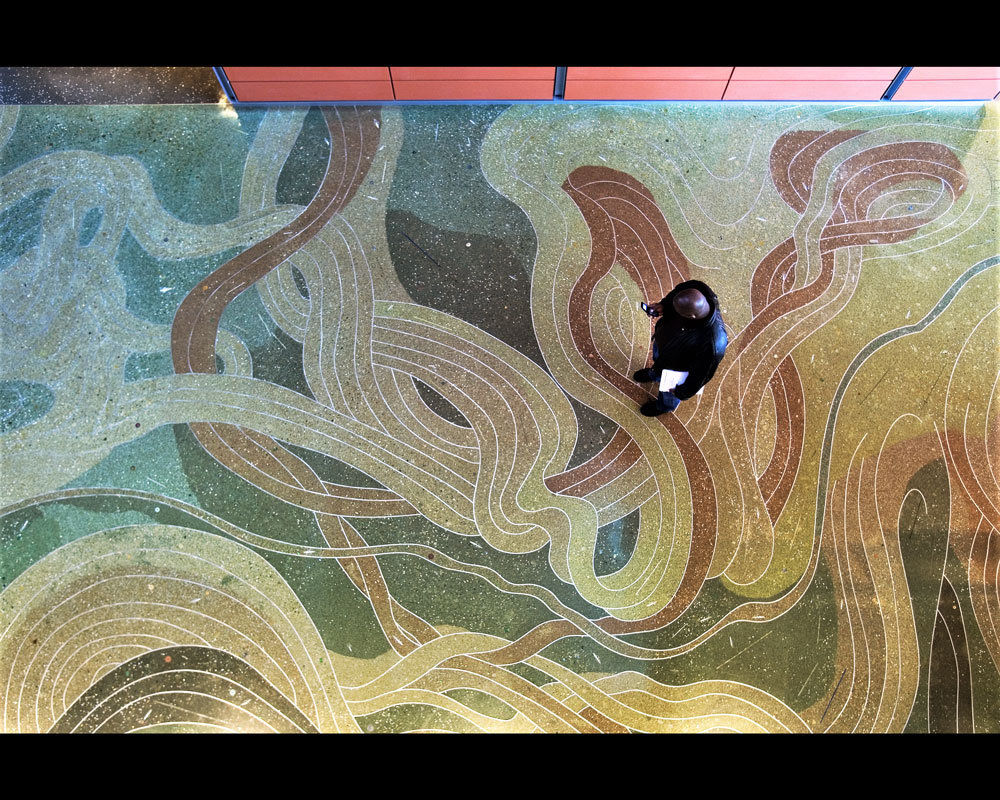 Ms. Beaumont also designed NTMA's 2007 Job of the Year: "Current" in the Bellevue, WA City Hall. The stunning 13,000-square-foot commission work of public art is a visual metaphor for the flow of ideas and activities within the city hall. "Current" refers to the flow of electrical charge, the movement of the nearby underground river, and the progress of time.
Greater creativity in terrazzo in the civic environment is one result of the "epoxy revolution," Ms. Beaumont explained. Epoxy terrazzo has come into its own in the past 30 years. In its wake have surfaced new generations of varied and vibrant colors and greater design flexibility. It requires a less labor-intensive process than traditional cement terrazzo, meaning more budget-friendly without compromising longevity and low maintenance.
This shift in the industry "meant that more beauty could be put into what could otherwise be a dry civic environment," she said. "Terrazzo is a thing of beauty, and it lasts forever. It has worth."
NTMA Honor Awards for Linda Beaumont and General Terrazzo & Tile, Renton, WA
1997 for "Full Circle":
Harborview Medical Center, Seattle, WA
2006 for "Truth Crushed,
Seattle, WA
2007 Job of the Year for "Current,"
Bellevue, WA, City Hall
2009 "As Above, So Below,"
Sound Transit Station, Mukilteo, WA