---
LA Memorial Coliseum Set to Enter its Second Century
"Greatest Stadium in the World" Remodeled with Terrazzo
---
The goal of the renovation of LA Memorial Coliseum was to create a timeless yet upscale look to last the life of the building while honoring the stadium's heritage. One of only four historic stadiums in the US, the 1923 stadium is a designated National Historic Landmark.
"The modernized Los Angeles Memorial Coliseum retains the historic coliseum in look, texture, and impression," stated the DLR Group, the architecture firm leading the project.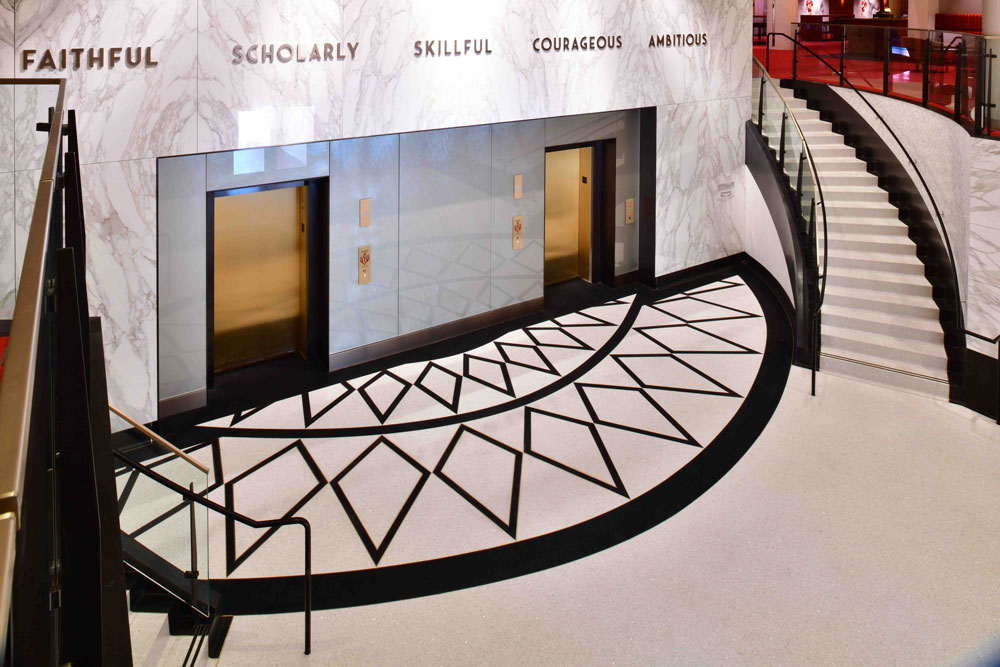 A crucial part of the modernization was a new suite and press tower on the stadium's south side. An installation of some 25,000 square feet of epoxy thin-set terrazzo in seven colors with brass divider strips included multiple suites, restrooms, a press box, lobbies, lounges, concessions, new concourse with six elevator cabs across seven stories. The elegant design's symmetry centers on the geometric pattern in the main lobby.
Meticulously executed vertical terrazzo also distinguishes this terrazzo installation, completed by the Corradini Corporation of Fountain Valley, CA. The four circular cast-in-place stairs with terrazzo stringer on inside and outside walls were completed by hand. Terrazzo continues from inside the stairs to wrap around outside the stringer and down the walls. The inside terrazzo stringer continues up the wall and wraps around, creating a two-foot base in the lobby.
The renovation of the iconic sports venue encompassed over 1,000,000 square feet of improvements over two years, all achieved within the constraints of historic renovation. The work was completed in August 2019; the stadium is now known as the United Airlines Field at Los Angeles Memorial Coliseum. A LEED-certified facility, it is one of the nation's most environmentally sustainable stadiums, achieving zero waste.
Commissioned in 1921 as a memorial to LA's veterans of World War I, the stadium was later rededicated to honor all US veterans of World War I.
In 2020, the stadium was named the recipient of both an Honor Award from the National Terrazzo & Mosaic Association and Engineering News-Record California Best Renovation/Restoration Project. Other awards for the renovation include:
2019 Pac-12 Zero Waste Challenge – Overall Winner, Co-Champion
2019 Green Sport Alliance Environmental Innovator of the Year
2018 CRRA Outstanding Practices in Venue/Event Resource Recovery Award
2018 National Designation as a World War I Centennial Memorial