Aviation Exhibit in Terrazzo at Dayton International Honors Locals Orville and Wilber Wright
---
When Dayton International Airport began its Airport Terminal Modernization Program, the design team elected to reflect on the city's history as the cradle of aviation to create a distinctive interior. A key element in the airport's investment in the passenger experience is a 26,000-square-foot terrazzo floor. Its design invites each passer-by to take an appealing walk through Dayton's rich history of flight.
The theme of the epoxy thin-set terrazzo floor honors Dayton natives Orville and Wilbur Wright with 19 historic planes in detailed silhouette. Among five Wright flyers showcased are their first successful powered aircraft flown in Kitty Hawk, NC, in 1903 and the 1918 WWII Liberty Plane produced by the Dayton-Wright Airplane company. The exhibit also features the iconic 1940 Boeing B-17 Flying Fortress bomber and the advanced Northrop Grumman RQ-4A Global Hawk, an unmanned craft built in 2001.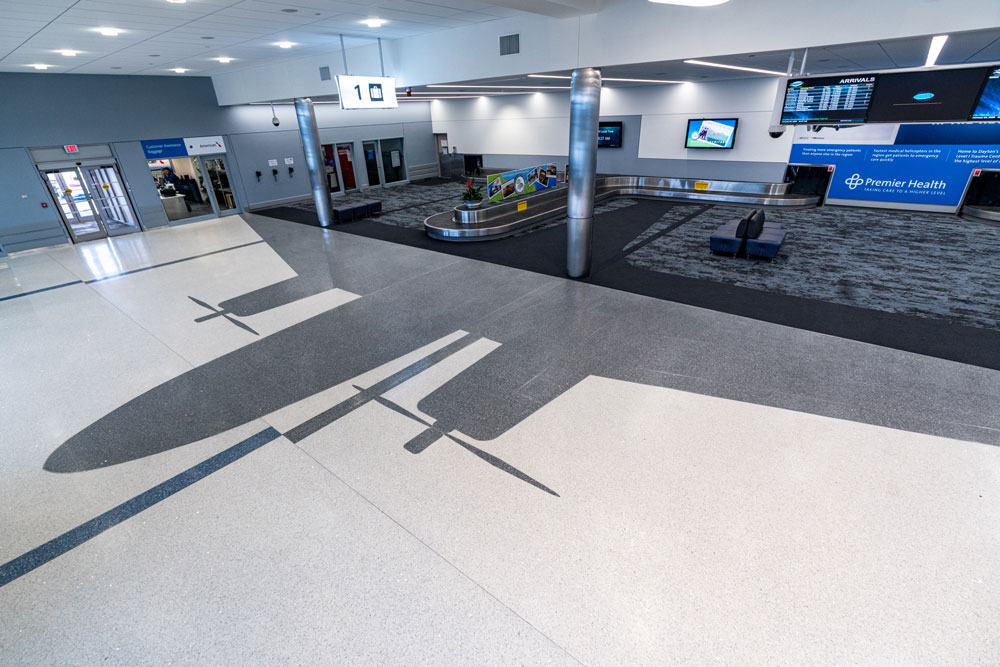 ---
The Shapes of Things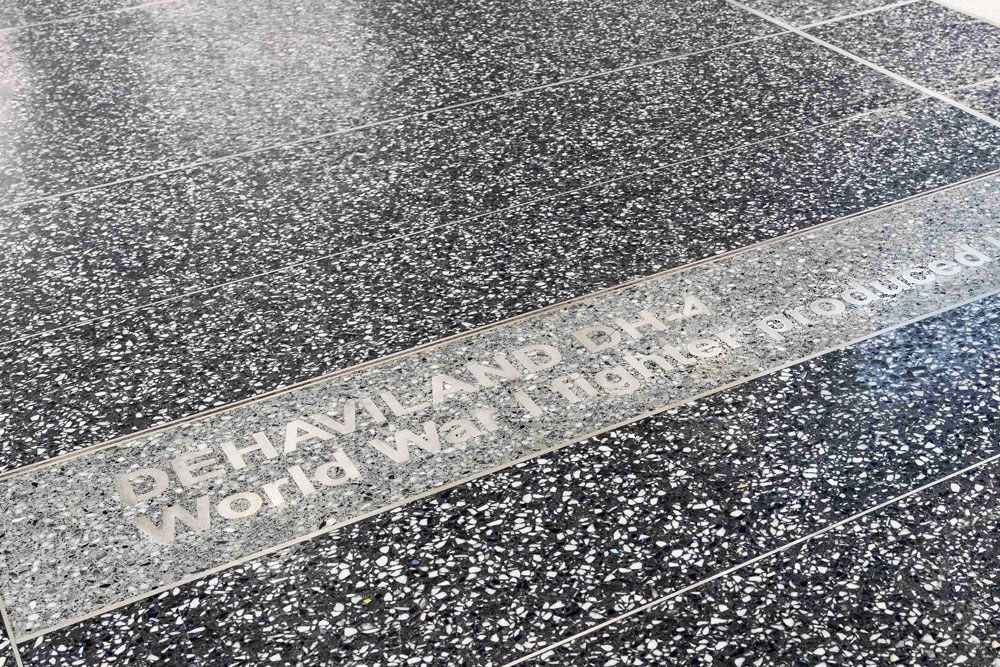 The silhouettes are formed in extruded aluminum divider strips, mostly quarter-inch and eighth-inch and hand-shaped on-site. The designs include historically accurate details such as propellers, aerofoil bracing, and rudder control wires. Each plane is named, described, and marked on a timeline in waterjet-cut aluminum. Some larger strips and complex shapes with tight radiuses, such as propellers, were waterjet cut by a supplier to ensure accuracy. The outlines are filled with epoxy resin in 12 colors blended with 28 different marble, glass, and mirror aggregates.
Leading in LEED Gold
Completed in October 2019, the terminal renovation was the city's first project to achieve LEED Gold certification. Low VOC emission levels of the specified epoxy terrazzo contributed to a LEED credit for low-emitting materials on the project. Low VOC was also an asset for continued airport operations during the installation.
Full Function
The work was divided into 20 phases over 12 months to allow for the uninterrupted operations of the terminal. Each 600-square-foot section was tightly barricaded and prepared after removing carpet and tile. Then terrazzo artisans with Siemering Tile of Cincinnati applied the full-scale templates, installed the strip work, poured the terrazzo, and ground and polished the floor, one section at a time with no sightlines to other sections.
To expedite the schedule, two different crews began working from opposite ends of the 30×60-foot corridor, using the control line and templates as guides. Precast elements were produced on the job site for recessed areas inaccessible to grinding equipment to gain time and ensure finish consistency. When the crews met in the middle, everything lined up perfectly, reported Joe Albert, president, and owner of Siemering Tile.
Exceptional use of epoxy terrazzo with a creative and well-executed design, this unique floor was selected by the National Terrazzo & Mosaic Association in 2021 as one of the association's top 16 terrazzo installations for the year. History will be honored and preserved in this durable exhibit for generations.