---
Painting a Picture with Stone
'21st-Century Glyphs' Celebrate the African-American Experience: Artist Hubert Massey: Storyteller in Terrazzo
---
An outdoor mural in Detroit's Harmonie Park/Paradise Valley tells the story of its community, through the medium of rustic terrazzo and through the eyes of African-American muralist Hubert Massey.
Massey pays homage to local musicians, historic buildings, and public figures in these award-winning Art in Public Places installations.
"Designing with terrazzo is like painting a picture with stone," Massey said. "It's one dimension, but you can create layers and levels."
He believes that art set in terrazzo extends an invitation to the public to take pride in the stories, legends, and symbols of the locale and its people.
"Terrazzo is almost like 21st-century glyphs–objects or images that tell the stories," said Massey, who compared it to the troweling techniques used in creating fresco, which he studied at the Slade Institute of Fine Arts in London.
He likes knowing that in 300 years, the terrazzo will still be around, sharing the history he set down in stone. "Organic materials that last forever–what better medium than something as organic as that?"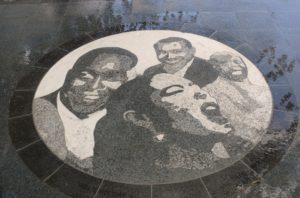 The Harmonie Park project, a recipient of a National Terrazzo & Mosaic Association Honor Award in 2011, also showcases the creative potential of terrazzo as an artistic medium. The design team chose rustic terrazzo, specially adapted for outdoor applications, due to its unlimited design potential and ease of maintenance and durability in high-traffic areas.
The mural was fortified to withstand the rigors of the Michigan winters and installed without divider strips, which are generally instrumental in creating images in terrazzo. Using only 12 custom colors, the terrazzo artisans were able to faithfully depict the artist's renderings of Cab Calloway, Billie Holiday, Louis Armstrong, and Charlie Parker, who all performed in Harmonie Park. With them are Maxine Powell, who owned the first African American Modeling Agency in Detroit; Richard H. Austin, former Secretary of State and the first black CPA in Michigan, who served many businesses in Paradise Valley; and Joe Louis, a World Heavy Weight Champion boxer.
Massey also designed a terrazzo floor in Detroit's Charles H. Wright Museum of African American History. Entitled the "Ring of Genealogy," the floor installed in the Ford Freedom Rotunda celebrates the African American experience throughout history. It is encircled by hundreds of bronze nameplates memorializing key figures in African-American history.
"If they tore down the building, they'd save the floor," Massey said, "because it has a major function: to tell the history."