---
Teaching Tools in Terrazzo
In Kentucky High School
---
Students at Hart County High School always know where they stand, just by looking at their feet:
• The science hallway displays a multicolor double-helix DNA molecule.
• The mathematics hallway features the Pi symbol with digits in solid aluminum.
• A musical staff presents the school fight song in the band and performing arts corridor.
• The logos of the Future Farmers of America, Future Business Leaders of America, and Family, Career, and Community Leaders of America point the way to the vocational hallway.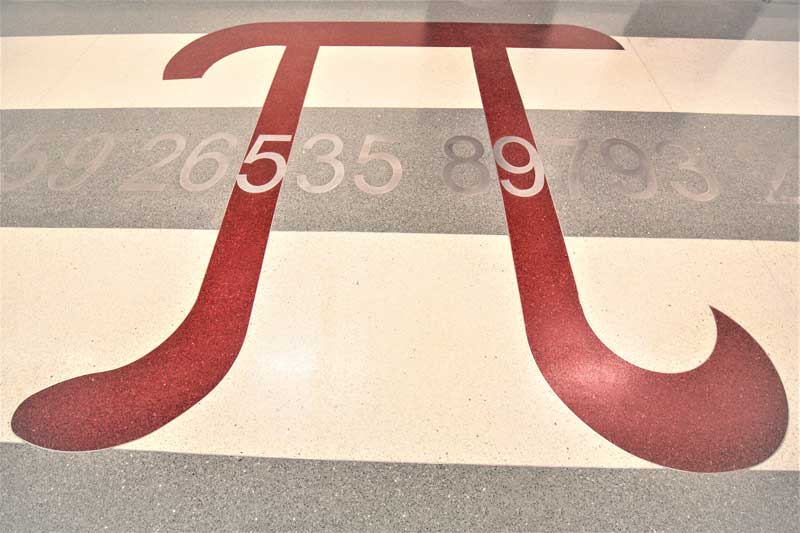 These striking graphic designs in terrazzo throughout the Munfordville, KY, school provide way-finding cues and teaching tools while promoting school pride in a welcoming environment.
Interestingly, the original impetus to use terrazzo focused on its durability.
"When we realized that funding would allow us to upgrade our floors, we immediately began looking at terrazzo for the endurance and the quality of designs the flooring had to offer," said Greg Cecil, school principal. "The ability of terrazzo to be wax-free and the beauty of the designs and patterns sold the committee that terrazzo was needed for our state-of-the-art building."
In a construction project envisioned by Sherman Carter Barnhart Architects of Lexington, the bulk of the school building was demolished and rebuilt. The completed facility opened to students in the fall of 2018.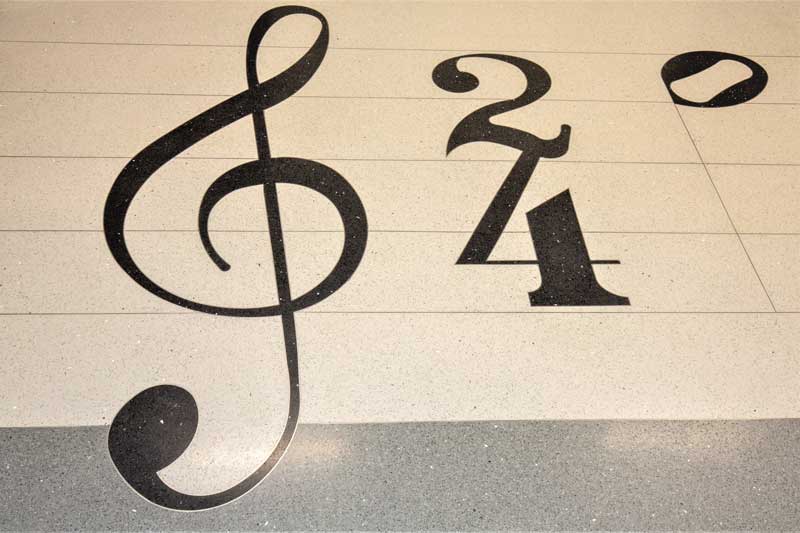 The installation was completed by Rosa Mosaic & Tile of Louisville, a National Terrazzo & Mosaic Association member and the winner of the annual terrazzo Job of the Year—the industry's highest honor—in 1996, 2000, and 2011. The family-run company was founded by Romano Rosa, who emigrated to Kentucky from Fruili in northern Italy in 1909.
In the 37,590-square-foot installation of epoxy thin-set terrazzo, a total of just eight colors brings unity to the highly varied styles and subjects of the many designs, all in a neutral field color. The graphics are formed in waterjet-cut aluminum.
The terrazzo entryways into the school are decorated with the school logo and crest. Maps of the county depict the local Green River wending through it, one in aluminum and another in blue terrazzo. The most intricately detailed of the graphic designs in terrazzo are the Future Farmers of America symbol and the welder, each composed of spaces as small as one-half inch.
"Our floors are one reason our school stands out among other schools," principal Cecil said. "We spent many hours deciding the right designs to make our school different from any other. And we are confident that this facility will be just as functional 50 years in the future."
Photographer: Mike Matthews