---
Educational Opportunity in Floor Design
2020 Terrazzo Honor Award Winner: Fairforest Middle School, Spartanburg, SC
---
"When the school district asked us to include a 100-seat planetarium in the design for the new Fairforest Middle School, we were inspired to make astronomy a theme for many design elements," said Michael Chewning, AIA, with McMillan Pazdan Smith Architecture, also in Spartanburg. "We especially saw an educational opportunity in the flooring design."
In the planetarium lobby, the solar system is embedded in the terrazzo floor. The detailed design includes Jupiter's spot, Saturn's rings, and a NASA satellite. Fluorescent epoxy—a new formula developed especially for this project—represents asteroids and stars; aluminum divider strips depict planetary orbit rings. Cast-aluminum labels identify the planets.
"We had the most fun designing our solar system into the terrazzo layout," said Chewning, who specializes in creating exceptional learning environments for the 21st-century student. The glossy 18-color epoxy thin-set terrazzo installation totals 21,200 square feet. It encompasses two flights of self-supporting terrazzo stairs. A sine-wave is carried through the curving corridor that traverses the school and a 40-foot-diameter school mascot promotes school spirit.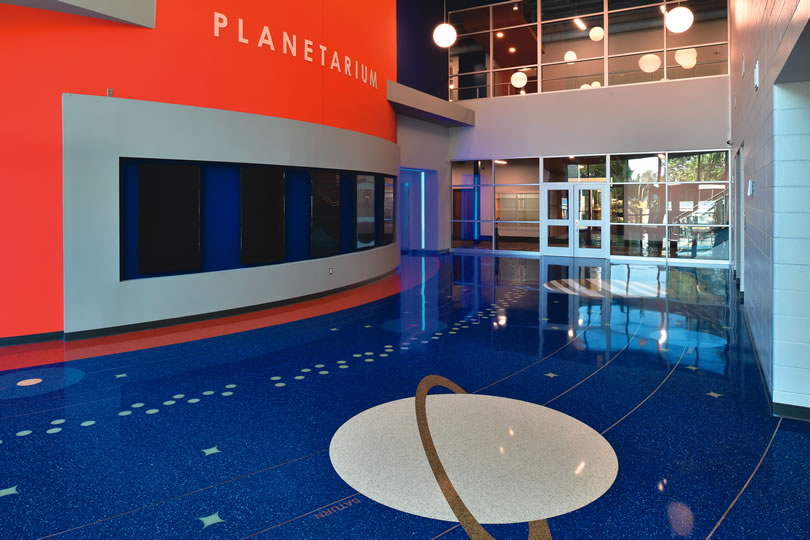 The 2019 terrazzo installation was completed in 12 weeks.
The school district has used terrazzo for many years because of its durability and ease of maintenance, Chewning noted. From the design perspective, he appreciates the flexibility to create high-impact patterns and images that contribute to the learning environment.
"I use terrazzo every chance I get," he said. "I really like it, especially the epoxy, which is easier to work with than the sand-bed terrazzo, and you get a good product."
"The glow-in-the-dark ingredient in the mix looks cool," he said. "I don't know many other materials that can do that."
The new school serves 1,100 students and offers a STEM-based curriculum. The planetarium, with a 40-foot-wide dome, features a spitz SciDome IQ 4K laser projection system with 3D-movie capabilities. A 15-foot diameter observatory houses a telescope that can shoot live video feed into the planetarium, which serves the entire school district.
"It was an extremely successful project," Chewning said. "The school district is pleased."
Terrazzo Contractor: David Allen Company, Raleigh, NC
Photos David Laudadio