---
David M. Schwarz Architects
A Tradition of Award-winning Terrazzo Designs
---
David M. Schwarz Architects (DMSAS) has specified terrazzo in numerous civic projects. The firm's designs have earned countless awards, including several National Terrazzo & Mosaic Association (NTMA) Honor Awards over the years for their terrazzo floor designs. Most recently, the industry's highest honor, the 2021 NTMA Job of the Year, went to the American Terrazzo company for Fort Worth's Dickies Arena and its Art Deco-inspired geometric terrazzo patterns.
CEO David Schwarz was awarded the University of Notre Dame's Richard H. Driehaus Architecture Prize in 2015 for his mastery of the ideals of traditional and classical architecture. The firm's countless monumental projects specifying terrazzo range from performance halls, museums, hospitals, airports, and stadiums to residential. We spoke with Steven Horwitz, project manager with DMSAS, about how terrazzo lends itself to traditional architecture and venues that require long-lasting flooring.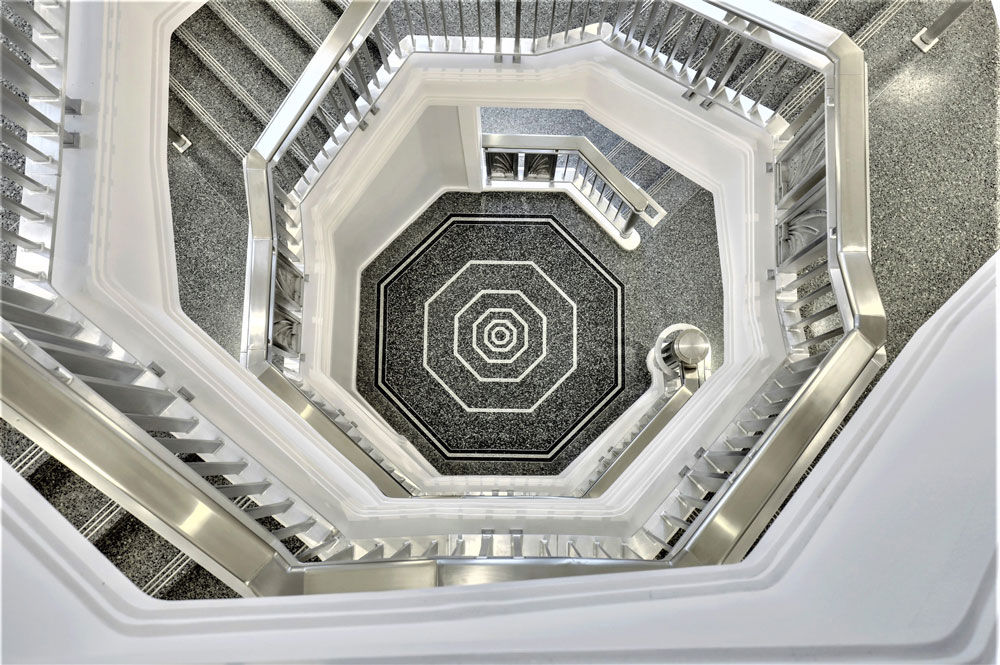 "As a traditional architect, what drew me to the office was the vast number of its monumental projects," said Mr. Horwitz, who's been with the firm for 16 years. "I've learned more about traditional architecture here than I did in school."
One of Mr. Horwitz's first projects that included terrazzo since he joined the Washington, DC, firm was the Smith Center in Las Vegas. An integral member of the design team, he contributed from the beginning of conceptual design in 2006 through design development and review of shop drawings to the project completion in 2012. The installation received an NTMA Honor Award for its striking terrazzo installation in an Art Deco-style chevron pattern.
---
Why Terrazzo
"Installing terrazzo has always turned out amazing for our projects," Mr. Horwitz explained. "It is a cost-effective material that allows us to create a beautifully artistic, durable, and low-maintenance flooring surface."

Early in the design process, the team considers the project type, use of specific spaces, and budget to select materials for a given project. "Given the past success with using terrazzo on multiple projects, DMSAS is a big supporter of the material," where other flooring options may be inappropriate due to durability or affordability.
The firm's designs include two NTMA 2016 Honor Award winners, the Gaillard Center performance hall in Charleston, SC, and the city hall of Alpharetta, GA. DMSAS also designed the American Airlines Arena in Dallas, which included terrazzo.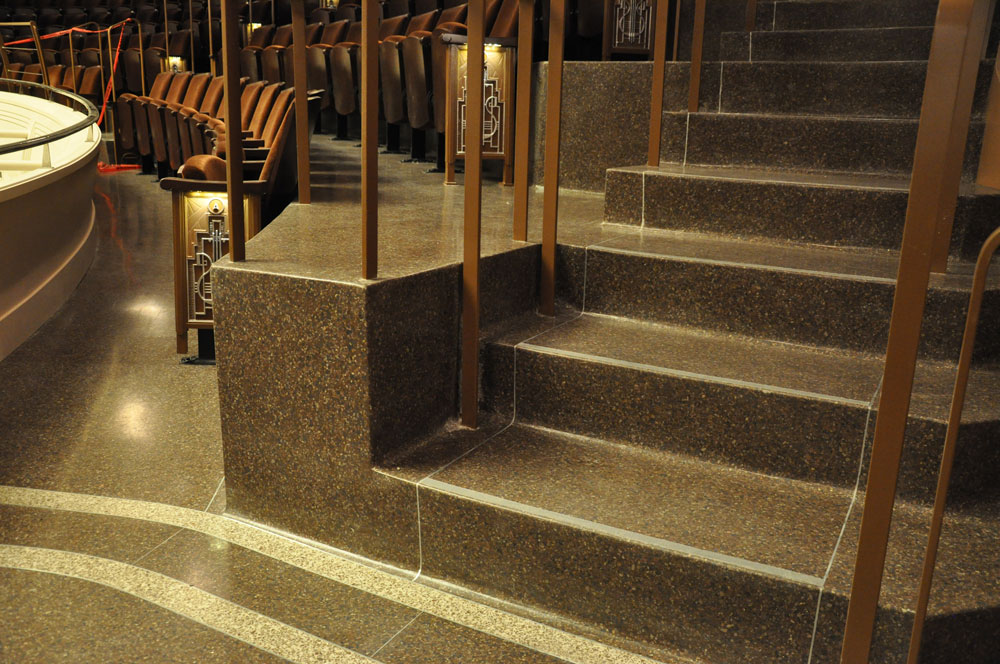 ---
To Enhance a Space
"DMSAS specifies terrazzo designs on many of our projects as a beautifully artistic feature to help enhance the entire space where other materials may not be affordable or appropriate," Mr. Horwitz stated.
"You can really use terrazzo—it's why we use it a lot— you can do beautiful things with it. You can enhance a space, pushing the limits with colors and strips. Different thicknesses of strips can create more depth and hierarchy in patterns."
For instance, in the Dickies Arena, terrazzo divider strip patterns were used in the floor to reflect the shape of the room and ceiling features to unify details of the space. In the auditorium boxes of The Smith Center, divider strips are used with different thicknesses to artistically create an interpretation of the main tower on the building's exterior.
The terrazzo design at Cook Children's Medical Center in Fort Worth includes fun transportation medallions scattered around the floor to engage young patients.
When a private residence in Utah was specified as a textile block house in the style of Frank Lloyd Wright, DMSAS set the dramatic accent of a 160-square-foot terrazzo rug in the entryway. The surrounding landscape inspired the stylized geometric pattern. This installation won an Honor Award back in 2011.
"In modern architecture, stone can be a cue to the past, and it can be done thoughtfully, but I believe it's more artistic with terrazzo," commented Mr. Horwitz. "But then, I'm biased."
From their considerable experience, DMSAS has a highly developed genius for creating contemporary, traditional architecture and exceptional terrazzo design. As Mr. Horwitz remarked, the DMSAS team listens to their clients and researches the context to develop innovative strategies that will also "be considered timeless, both today and by future generations."