---
The Reflooring of New Orleans : How Terrazzo Weathered Hurricane Katrina
---
The costliest natural disaster in US history, Hurricane Katrina tore through New Orleans on Aug. 29, 2005. The storm took over 1,500 lives. Property damage was estimated at over $81 billion. Failure of the city's levees and floodwalls let in a deluge of saltwater, carrying mud, sewage, chemicals. Water saturated the city, then stagnated for weeks.
Among the colossal property losses were most floorings: wood, carpet, ceramic tile, and VCT. Generally surviving intact were terrazzo floors around the city, many in older structures. If falling equipment or structural collapse had chipped or gouged these floors, they were repairable.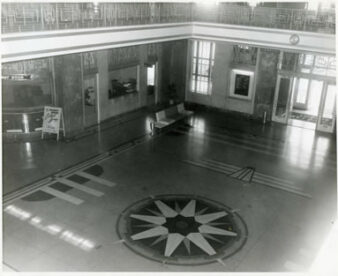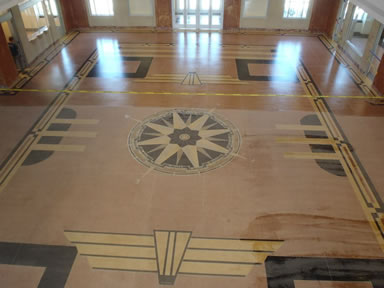 Most of the terrazzo required nothing more than polishing and refinishing, reported Alton Davis of Richard C. Lambert Consultants, who led the architectural team on the $17-million restoration of Lakefront Airport terminal to its original 1929 design. The original terrazzo floors allowed designers to retrace and restore the earlier configuration of the terminal.
Lakefront, one of the earliest and few remaining Art Deco terminals in the US, had been renovated in the 1960s as a monolithic, bunker-style fallout shelter.
Katrina left the terminal's ground level terrazzo floors submerged under several feet of water, setting equipment and furniture adrift. Once the water subsided, many of the airport's newer finishes, including the drywall installed since the 1960s, had sustained damage, Davis noted.
The ravages of the hurricane showcased the toughness of terrazzo, reported Clyde Martin of Terrazzo Masters in Metairie, LA, terrazzo contractor on the Lakefront renovation. Insurance didn't specify removing terrazzo after Katrina since the floors emerged in such good shape.
New construction post-Katrina followed a flood-proofing trend, based on the materials that had passed the test: metal roof, concrete block, structural steel, and terrazzo floors.
"It clicked," Mr. Martin added. "Architects realized that if the only flooring saved from Katrina was terrazzo, we should use it when we build something new."
Following the hurricane, Martin's company restored numerous terrazzo floors, from the city's convention center to numerous churches and schools. After the flood, with no TV or radio functioning, they promoted their trade through word-of-mouth and signs titled "Flood-Proof Flooring."
"It's a class-A finish," Mr. Davis concluded. "Katrina just reemphasized what I already knew about terrazzo. When they tear down the building, it will still be there. If the building lasts hundreds of years, the terrazzo will last hundreds of years."