---
Terrazzo Over Bouncing Wood Joists?
Where There's a Will, There's a Way
---
Gallagher's Steak House was established in the Times Square District in New York City in 1927. In 2015, a new epoxy thin-set terrazzo floor was installed to replicate a 1920s-style traditional cement terrazzo to complement the historic structure and its retro interior.
Achieving the tones and textures of a 100-year-old traditional terrazzo floor was a relatively minor challenge. A more significant challenge was to install it over wood beams from almost that long ago.
The floor joists in the timber-and-masonry construction that houses Gallagher's had been reinforced from the underside, but the floors had sagged over the years. The wood joists and plywood top would bounce under foot traffic or heavy loads. Any new terrazzo floor would be in danger of cracking.
So the terrazzo contractor's first task was to correct the flooring transitions and construct an independent floating slab with epoxy fill reinforced with quarter-inch wire mesh to allow weight to be distributed to the rest of the floor without cracking the surface.
A valued element of the early-20th-century design concept, the existing revolving door at the front of the restaurant, added a complication. Depth was lacking to build up the floor coming up against the door elevation, so pre-fabricated sections of terrazzo were produced and installed to be independent of the poured-in-place terrazzo. The pre-fabricated sections could then allow for movement with the substrate without breaking.
The classic diamond pattern is installed with exact symmetry, each starting and ending at the brass strip of the cove base black border in the 1,800-square-foot-floor. The project was designated a 2016 terrazzo Honor Award winner by the National Terrazzo & Mosaic Association.
"We have been told many times that patrons would swear that this floor always existed and compliment the management on how wonderful it looks after all those years!" said Maurice Sedaka, owner of Durite USA, terrazzo contractor on the project.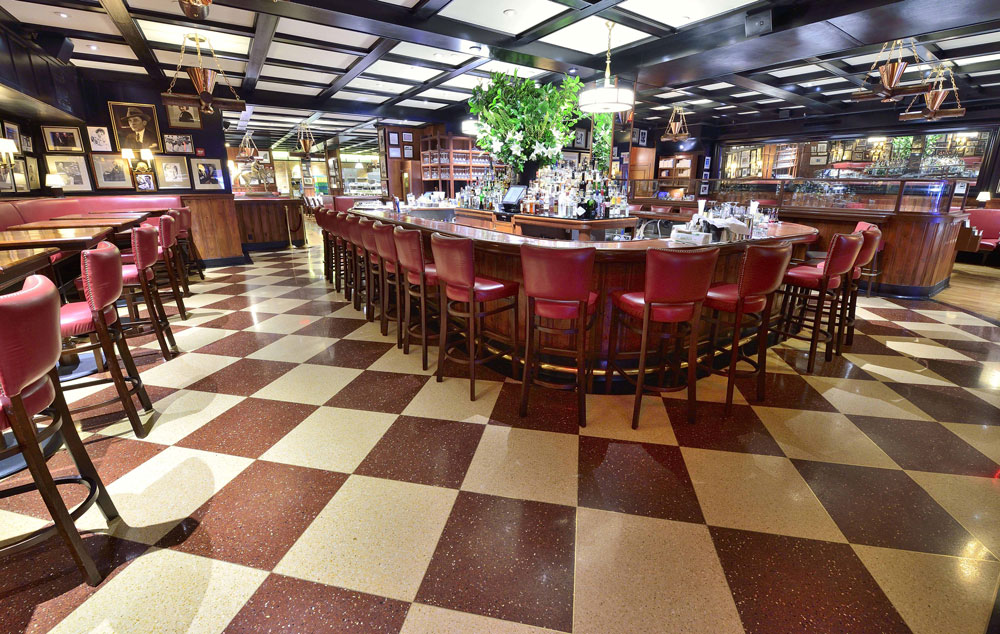 Architect:
Niemitz Design Group – Boston, MA
Designer/Artist:
Louis Carter – Boston, MA
Terrazzo Contractor:
Durite USA
Resin Supplier:
Terrazzo & Marble Supply Companies
Aggregate Supplier:
Terrazzo & Marble Supply Companies
Precast Supplier:
Durite USA
Divider Strip Supplier:
Terrazzo & Marble Supply Companies
Photographer:
David Laudadio