---
What is Palladiana? An Elevated Aesthetic in Terrazzo
---
"Palladiana has a warm, authentic, uniquely crafted appeal," said architect Paul Manno of Gensler in Dallas. Hand-laid and hand-finished, it offers such a radically different aesthetic that it's often not recognized as terrazzo, he noted.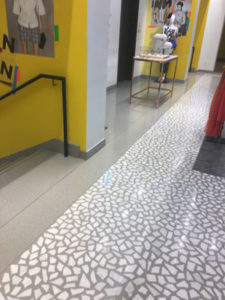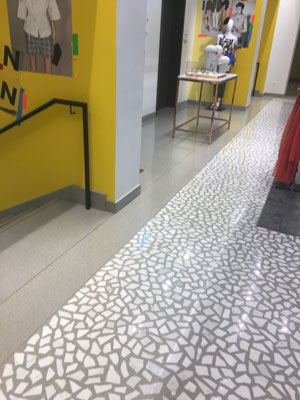 Terrazzo can be customized to evoke a range of aesthetics by merely varying the size of aggregate. The finest micro-aggregates through standard sizes of 0-2 (1/8 to 3/8 inch) create a minimal, monochromatic look. Aggregates larger than standard create more contrast in what is known as Venetian terrazzo. Higher contrast yet is created using irregularly shaped, randomly set, paver-like stone slabs embedded in cement or epoxy, in place of aggregates, known as Palladiana terrazzo.
Gensler was a product design consultant for several Palladiana installations, notably two high-end law firms, in collaboration with Anthony Iorio of NTMA member contractor Sigma Marble, Tile & Terrazzo Company (Sigma) in Dallas. Manno recommends Palladiana for such installations to elevate terrazzo from the more streamlined look generally found in larger installations such as in airports, convention centers, or educational projects. He also specifies it for a change of scale in reception and lobby spaces or break rooms. He likes that it's neither directional nor patterned.