---
It Takes a Team: How to Design for Terrazzo
A visit with Anita Ambriz
---
What makes a terrazzo project successful?
We asked an expert–Anita Ambriz, owner of the Chicago-based Ambriz Graphic Design, an experiential graphic designer who is experienced in working with terrazzo installations. She provided perspectives and tips for a successful terrazzo project, from start to finish.
NTMA: What is your history of working with terrazzo?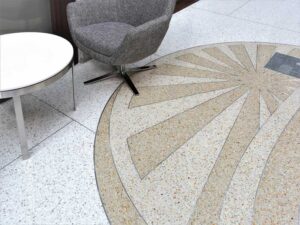 Ambriz: I've worked on many projects with simple grid-like designs, but I've seen the industry change in recent years. Clients now look for a space to support a message. They see terrazzo as an opportunity to support a branded space or a themed environment. It's been fun to see those changes.
Improvements in technology have also had an effect. Epoxy allows thin-set and total flexibility of color, though cement floors have a certain beauty. Technology such as waterjet cutting has expanded terrazzo's potential even more.
I cannot tell you how much I love terrazzo. Beyond the obvious—cost-effectiveness, ease of maintenance, durability, low environmental impact, contribution to LEED certification with indoor air quality, sustainability, regional sourcing—as a designer, it's the capacity for expression, from very dynamic to subtle. Terrazzo provides the opportunity for infinite flexibility for message-driven content that creates visual interaction between users and their environment.
NTMA: What makes a terrazzo project successful?
Ambriz: A project is successful if it meets not only the aesthetic design goals set in the client brief but also when the team members deliver on their respective responsibilities with high-quality solutions. In an AE multidisciplinary environment, each team member sees space differently and has certain priorities. The design concept is only the beginning. Each project is a collaborative learning experience, and collaboration makes the project successful. When we find the exact point that pleases the entire team, the results will resonate with all involved, as well as the viewing public.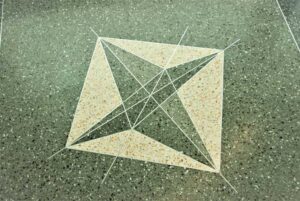 NTMA: Describe the players that are on the team for a terrazzo project.
Ambriz: I appreciate all the artisans involved, well beyond the contractor—who are also artisans, not installers! With a theme-centered design, I have to research to make sure it can be built in a floor.
At the John Caretti Co., one invaluable asset they have for a designer is their library: a room with walls and walls displaying samples of past projects. You can see what you think is successful and why. Working with a client, I use these samples to develop the concept.
Material suppliers also contribute significantly to the project. I can call the glass company or aggregate supplier and say, 'I'm looking for this,' or 'I have this problem; what do you think?' They help me find the right colors.
I also work with epoxy suppliers to create colors. Pigments aren't like CMYK or RBG. It's another language to learn to communicate. The epoxy suppliers know what causes a powdery effect, when to change the fillers, how to use more than one color. Looking at the Franklin Park project, there were so many colors; it could've turned into a mess.
On the Northwestern University J Wing, we used only eight colors: white, beiges, and three tones of blue. But we needed more samples to narrow down that selection than we did on Franklin Park, with its 38 colors. It's much more challenging to achieve subtle transitions than distinct colors. In such subtle distinctions, the choice of aggregates has an enormous impact.
To produce the final art for a project, I also contact the divider strip supplier to ask, 'How do we build this?' and if what I want to do is possible. They recommend the best way to proceed based on the design. The strips can either be waterjet cut or formed by hand, or the supplier can put the design on a form for you that can be dropped in place onsite.
Everyone is involved. The Caretti Co. has an incredible resource in their offices: a person who reviews all the formulas. I have found her contribution to a project to be tremendously valuable, especially as designs become more complex. I always tell them how great she is. She spots potential problems and prevents mistakes. She knows all the formulas and manages an archive; it's like the Dewey decimal system of terrazzo formulas.
If I look at an aggregate and decide on a certain percentage of 1s and 0s, for example, and submit mixes for samples, she may come back and advise me to rethink because the aggregates are running large. That would be a huge surprise; there's a visible difference between the sizes. If they are large, I need to know. If a marble is running orange, that could be a disaster. Those are big mistakes. Nuances make a big difference.
Terrazzo designers who want to push the envelope and achieve the best result must rely on the team to learn all they need to know to reach their goal. 'Teamwork makes the dream work'—it may be corny, but I live by it. I don't know everything. The team makes it happen.