---
Great Expectations: Terrazzo or polished concrete?
Frank Klemaske is the Executive Vice President of business development and sales at T.B. Penick and Sons, Inc., in San Diego.
---
His company, founded in 1905, is an accredited contractor with the National Terrazzo & Mosaic Association but is also ranked the number one decorative concrete contractor in the country by Concrete Construction magazine. Mr. Klemaske began his career in the trade of imprinted concrete 40 years ago.
When developers approached him in 2017 for an estimate on polished concrete in the lobby of a luxury condominium high-rise in San Diego, however, he questioned their choice. In some environments, it's the perfect solution, he said, but when clients of a particular profile come to him for polished concrete, he starts a conversation.
For class-A buildings, major institutions, or buildings with high traffic, such as an airport or a lobby where terrazzo could be in the running, he's learned that "95 percent of the time, expectations won't be met with polished concrete," he cautioned. "Expectations are too high."
"Polished concrete is not for the weak," Mr. Klemaske said. Every flooring system has its limits, and each project is different, he tells clients. "We're a concrete contractor, but we listen to the client to understand what they are aiming to achieve."
Managing Expectations on a Luxury High Rise Condo
In the case of the 38-story Pacific Gate condominiums in San Diego, the clients were looking to specify white polished concrete with brass ring inlays in the 3,355-square-foot lobby.
One reason to use polished concrete is its low cost, he explained. It's also easy to maintain, and if the surface is compromised, it's easy to restore.
Many designers like the aesthetics of it, too, but often underestimate the amount of cracking and inconsistency. Before he bids a project, Mr. Klemaske insists the client first take a hard look at an actual installation. While polished concrete's rough casualness is part of its charm—on the right project—it's less acceptable in higher-budget designs.
"We explained to them that someone who spends a million dollars on a condo doesn't want to see a 1/8-inch or a 1/4-inch crack in the lobby," Mr. Klemaske said. "In a warehouse, okay; class A, no way."
The cost of terrazzo can be two to four times higher than polished concrete, but when the pros and cons of each system are considered, he said that about 75 percent of high-end clients are persuaded to switch.
"If neither terrazzo or concrete fits the project, we would suggest ceramic tile," he said. "If terrazzo doesn't fit in the budget, they go for tile."
Cracks and Imperfections
Traditionally, structural slabs would be covered with tile, carpet, or linoleum. If it's used as a finished surface – a canvas to polish – the concrete must be poured with exceptional care, Mr. Klemaske explained. Joints have to be filled.
"About 98% of the time, you can't ask for consistency all over the floor," he cautioned. Constant movement also renders it highly susceptible to cracking. At Pacific Gate, the numerous columns planned for the lobby would weaken it further.
"Pouring concrete against the brass strip design wouldn't have resulted in the desired effect, either," Mr. Klemaske added. "When concrete is poured against divider strips, it pulls away from the strips as it dries. It expands to a noticeable 1/16 to 1/8 inch."
Epoxy, on the other hand, doesn't shrink. "When you pour two colors next to each other, you can't slide a piece of paper between them," he said.
Concrete is poured in sections; those "pour backs" show once the floor gets a high sheen on it. As it cures, it also shrinks, or "curls," which may create a pattern along the edge.
If the concrete has to be brought up to elevation, that's yet another complication, with more lost time and more imperfections in the floor. On the other hand, once the epoxy has been used to flatten the floor, the terrazzo system can be poured over it within five hours.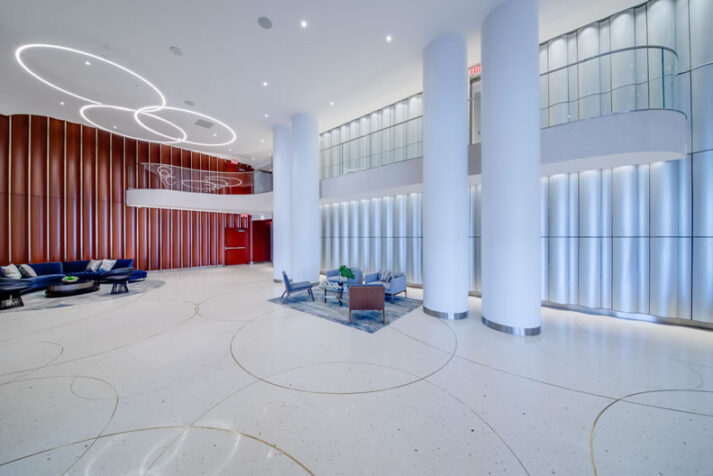 Design Flexibility
Terrazzo offers many advantages, according to Mr. Klemaske. It's seamless and requires no joints, even when pouring a 50,000-square-foot floor, though expansion joints have to be honored. Also, "you can pick any color from a paint color fan," he noted, while color tones are limited with polished concrete.
With terrazzo technology, you can go from size zero aggregates, simulating polished concrete with a superfine micro-blend, to traditional terrazzo. While a micro-blend would never be used in a Home Depot or Costco, where polished concrete is more appropriate, terrazzo's options open up a vast perspective for designers.
If a design team hasn't been considering terrazzo, once they see the options, they frequently do end up adding material, Mr. Klemaske reported.
Once the design team at Pacific Gate settled on terrazzo, they explored the gamut of options. They were drawn first to a Palladiana finish, which incorporates large broken pieces of marble—the largest aggregates. In the end, they opted for a cleaner yet nuanced 90 percent mix of marble with large rock and mother-of-pearl to complement the intersecting brass ring inlays. The floor provides a neutral backdrop to the lobby's textured walls, which include contoured terrazzo fascia panels.
"We try to be the solution for the client," concluded Mr. Klemaske, whose company installs terrazzo and concrete all over the world, including a recent project for Disney in Shanghai. "We are a resource for clients and architects, and we put a lot of effort into educating them."
Architect
Kohn Pedersen Fox Associates
New York, NY
Terrazzo Contractor
T.B. Penick & Sons, Inc.
San Diego, CA
General Contractor/Owner
Bosa Development California, Inc.
San Diego, CA
Resin Supplier
Terrazzo & Marble Supply Companies
Aggregate Supplier
Terrazzo & Marble Supply Companies
Precast Supplier
Precast Terrazzo Enterprises, Inc.
Divider Strip Supplier
Manhattan American-Terrazzo Strip Company
Photographer
Nathan Padilla Bowen