---
Don't Go it Alone: Terrazzo Strip Layout
---
"Where do I have to put strips in my terrazzo layout?" is the top question of many that Gary French fields as part of his job as the National Terrazzo & Mosaic Association's technical director. "Designers and architects never want strips in their floor," he reported. "But generally we have to compromise."
To counter the movement and shrinkage that leads to cracking, the standard for cement-based terrazzo is expansion joints every 4'x4'. Epoxy terrazzo, which is the system of choice for the vast majority of installations nowadays for many reasons, is another story, according to Mr. French. Strip placement is highly dependent on the job and the desired pattern.
"Your particular questions about your particular job can get very technical," he said. "Every job is different; furthermore, a contractor can be hit with surprises. That's the nature of construction."
He added that nobody could ever be ready for everything that can happen on a job site. The good news is that, with a terrazzo installation, you don't have to be.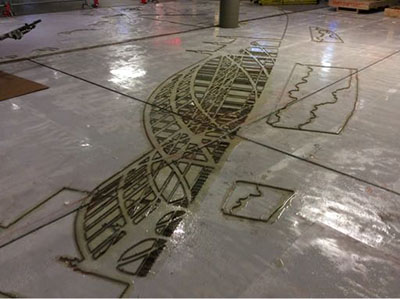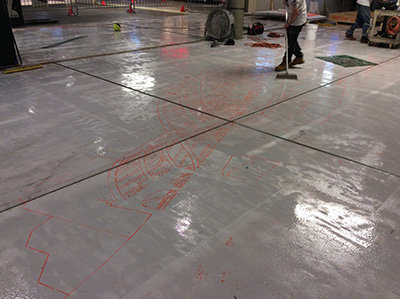 Don't know it all?
"We are here to work with you to help you evaluate all the factors that go into decisions on strip placement," said Mr. French. Whether or not you need a full coverage membrane over your substrate and how to predict movement in the floor are just a couple of the critical considerations.
A 40-year veteran of the flooring industry, Mr. French has presented over 300 AIA and CSI seminars on terrazzo. He's also developed numerous epoxy formulas, primers, and membranes. Designers are urged to rely on his superior and highly specialized experience and expertise.
Recommendations specific to your project are built into the deal when you hire an NTMA contractor. It's the best way to ensure the best possible outcome and avoid all known pitfalls that could threaten your project.
Navigating the minefields
One central line of investigation that Mr. French can guide you through is how to estimate temperature gradient and to anticipate the demands it places upon your design. Even in a temperature-controlled building, with opening doors come sometimes drastic variations in temperature.
In the Miami airport, for example, the terrazzo floor has no joints, but the AC maintains a relatively constant temperature 24/7, 365 days a year, he explained. On the other hand, a school in Ohio may turn off the AC in the summer and the heater during Christmas break, which may result in a temperature range of 40-50 degrees.
Planning to install radiant heat? It's a popular trend, but also complicates the issue, Mr. French noted. In epoxy terrazzo, temperature changes cause three to four times greater expansion and contraction than in concrete.
Specific answers to your questions
Multifarious factors play roles in determining the strip layout that will best serve your design goals while meeting the technical demands of your project. NTMA is there to help you most effectively evaluate the variables and consistently make the right call.
Over his five years helping countless designers and contractors install terrazzo, Mr. French has seen numerous tricky terrazzo projects to successful conclusion. His support helps designers push the horizons on terrazzo's capabilities with confidence.
For support on your terrazzo project, call Gary French at 800-323-9736 ext 1, or send him an email at gary@ntmacom001prod.wpengine.com