How to Get a Top-Performing Floor at the Most Competitive Price
---
The most amazingly artistic floors are realized in terrazzo. It's a medium that lends itself to incredibly intricate designs and offers an unlimited range of colors. The National Terrazzo & Mosaic Association's Job of the Year in 2018 and 2019 are stunning examples of such underfoot artistry. A designer's brightest ideas become a reality on a terrazzo floor.
Because these artistic terrazzo floors make a big impression, they may unjustly overshadow the reputation of classically simple terrazzo: budget-friendly but equally tough and durable. An award-winning installation at Malcolm X College in Chicago exemplifies this classic terrazzo: a large-scale job which is elegant, easy-care and built to last.
"These simpler floors may not be as dramatic as more intricate floors in photos, but they add so much to the building at a surprisingly competitive price," said terrazzo contractor Steve Menconi of Menconi Terrazzo, a member of the National Terrazzo & Mosaic Association.
Terrazzo is a highly customizable, problem-solving, permanent flooring system that lasts the lifetime of the facility. Because it's a poured-in-place product, terrazzo offers the flexibility of options to make it work for projects within a wide range of budgets.
A simple design and large installation will decrease the cost per square foot, bringing a terrazzo floor well within the price range of far lower-performing options. No compromise on performance and quality is necessary.
The Ever-Popular Budget Classic
"We deal far more often with one-, two-, or three-color floors than with the highly artistic ones," Mr. Menconi stated. "And there's a massive price difference."
Whether you take a terrazzo floor to the extremes of artistic detail or opt for a simple, one-color design, both options share the common denominator of practical performance benefits. Poured-in-place terrazzo is a seamless, hard-working floor with the lowest maintenance demands of any flooring.
"These benefits can be achieved at a competitive price point," Mr. Menconi noted.
Compare Terrazzo to Terrazzo 
Mr. Menconi offers some tips for comparing flooring estimates. He cautions against looking at a bid for a terrazzo floor with a sophisticated waterjet-cut design and multiple colors, complete with cove base and precast elements, next to a bid for a lower performing plain option such as single-color manufactured tiles or porcelain tile.
Mr. Menconi reported that architects he works with have learned to ask for an estimate for both the artistic floor of their dreams with all the bells and whistles and a second, more budget-oriented terrazzo option. Whatever the budget, terrazzo will be an easy-care floor that lasts the life of the building.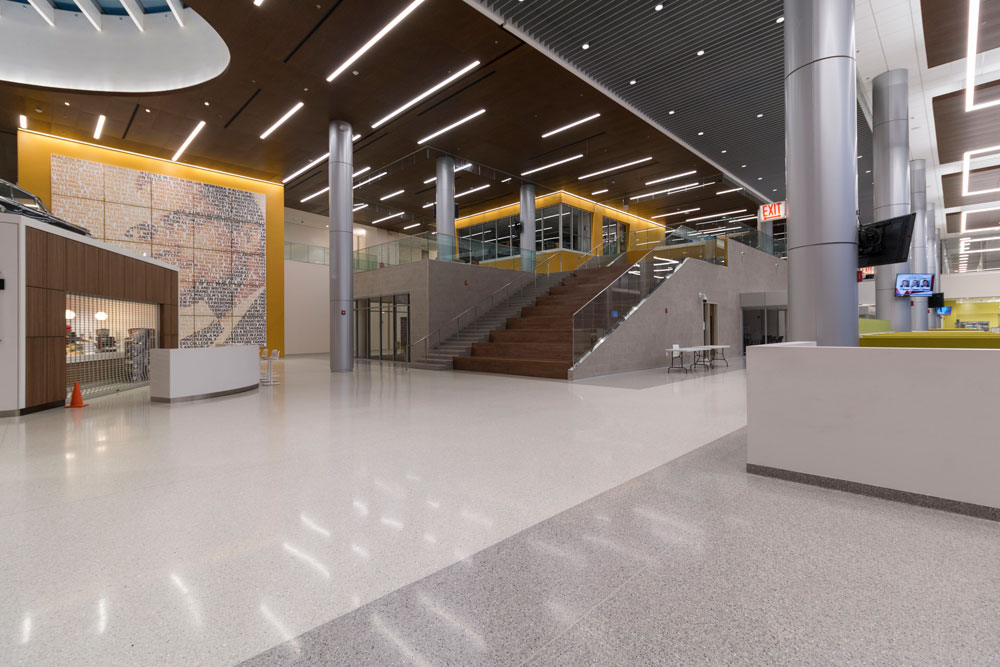 Check Out the Competition
"If you are looking at a new product on the market or a product that someone may be comparing to terrazzo, walk a few jobs and see what they really look like," Mr. Menconi recommended. He also advises taking a close look at the warranty and life cycle data on each option. These manufactured products may or may not even come at a lower initial cost and will most certainly lack terrazzo's performance advantages.
Simple Beauty and Toughness
A terrazzo floor in an elegantly simple design is a seamless, impermeable option for ease of maintenance and matchless durability. It can also be the right floor for almost any budget.